Sundlaug's logo. Courtesy of artists Beth Hadfield (@bethhadfield) and KA Bird (@__kabird).
"Welcome to the Sundlaug, would you like a towel?
Take a dip in the pool, where tired bodies and distracted minds are tranquilised. Close your eyes and submerge yourself under the warm cleansing waters. As you bathe allow your physicality to diffuse and your essence liquesce. Consciousness disseminates in the solution, a psychic disengagement. A deep serenity washes over you like a veil of wet static."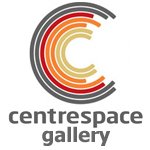 CentreSpace Gallery's logo. Available from: https://twitter.com/centrespace1 .
Sundlaug is the icelandic word for swimming pool.
The new group exhibition at CentreSpace Gallery, a thriving art co-operative running since 1987, seeks to investigate a slippage into ambiguity by showcasing recently graduated artists.
This title aims to convey an idea of malleability and fluidity, then blurring the lines between the ethereal and the tangible, the internal and the external, the real and the virtual.
First of all, I was intrigued by the ceramics of Faye Hadfield (@faye__roc): she manipulates the clay with great familiarity, giving the impression of a warm embrace.
Sway by the water. Courtesy of Faye Hadfield.
" I take on the role of the mother, of the home-maker, moulding from clay a family and utilising the aesthetics of domestic space to create artefacts that are imbued with symbolism and emotion": Faye's creative concept is immediately transferred to the two installations displayed entitled Sway by the Water and Wet Flood Sign, which explore feelings of domesticity and familiarity.
Ghost in the Sheets (2018). Video Installation. Courtesy of William Hughes (will_hughes_art_)
Ghost in the Sheets's video. Courtesy of William Hughes (will_hughes_art_) . Available from: https://www.youtube.com/watch?v=MnSy0vPxNqw. .
Next up, I focused my attention on the only queer artwork displayed: Ghost in the sheets video installation by William Hughes (@will_hughes_art_), whose title has been inspired by Beyoncé's song Haunted.
The video explores William's struggle with body image and body dysmorphia and where he sits on the gender spectrum: commenting on this idea, the artist aims at reflecting on the tension of being trapped in the wrong body and on the scrutinity of modern day life and social media.
It also speaks of birth and echoes the shape of a single cell, the building blocks of living organisms: his work is emotional, mysterious and sensual.
To conclude, the exhibition also feature works from Greg Lonsdale ( @greg_lonsdale95 ),  Pace Frith (@pace.frith ), Beth Hadfield (@bethhadfield ), KA Bird @___kabird , Lenka Wilkinson (@lenkawilkinson ), Charlie Howard (@charlie___howard ) and Ben Sargent @ben.sargent__ .
No Running (2018). Foam, latex and found objects. Courtesy of Greg Lonsdale (@greg_lonsdale95)
Sharks on a plane (2017). Video Installation. Courtesy of Pace Frith (@pace.frith)
Untitled (2018). Tiles, chip board, spray paint. Courtesy of Beth Hadfield (http://bethhadfield.wixsite.com/bhart).
PVSea (2018). Wood, PVC, foam, elastic, chip board, fabric. Courtesy of Lenka Wilkinson (@Lenkawilkinson).
FLOL (2018). Computer generated video. Courtesy of Ben Sargent (@ben.sargent__).
The exhibition is on until Wednesday 18th April 5-12 pm daily.
To have more info check CentreSpace Gallery's website at http://www.centrespacegallery.com or follow its social media: Instagram (@centrespacegallery) or Twitter (@centrespace1).