Oscar Wilde plays a pivotal role in Queer History as a testimony of how same-sex relationships, and in general queer desire, were often met with suspect and hostility in Victorian times.
In February 1895, Wilde was accused by his lover Alfred Douglas's (also known as Bosie) father, the Marquess of Queensberry of "posing as a sodomite" (biblical term, used as a slur to refer to people who were LGBTQ+).
The Oscar Wilde Temple, curated by Alison M. Gingeras in partnership with Studio Voltaire, is an immersive installation created by New-York based visual artists David McDermott and Peter McGough to celebrate the legacy of the Irish poet and playwright as a 'pioneer of gay liberation', whilst memorialising contemporary LGBTQ+ martyrs, and people who have died from AIDS.
McDermott & McGough's practice has been focused since 1980 on experimenting with performative 'time machines', such as restoring a 19th-century townhouse on Manhattan's Avenue C where they lived as top-hat wearing Victorian gentlemen.
For The Oscar Wilde Temple, the artists draw on the aesthetics and atmosphere of Victorian England through the use of "specially made fabric wall coverings, architectural and decorative details, furnishings and lighting."
When you enter the gallery, a Victorian former chapel, you feel a sense of safeness and contemplative intimacy. A four-foot statue of Wilde, located at the centre of the room, near two vases and an altar, gives an impression of standing in front of a religious icon.
On the walls, covered in period wallpaper and evoking the voluptuousness of the Aesthetic Movement, are paintings with episodes of Wilde's life from the arrest to the release from prison, forming a series entitled "The Stations of Reading Gaol" (name of the prison where Wilde had been incarcerated after being convicted for homosexual offences in 1895).
This curatorial choice of putting Wilde and Christ on the same level contributes to create a non-linear and queer historical narrative, which is the distinctive trait of the artists' practice, as we might see below in the "C.33 A Holy Family".
The portrait represents the 'trinity' of Wilde, his mother Speranza, and lover Bosie in the fashion of altar paintings, surrounded by sunflowers.
Next, the Temple includes a shrine dedicated to people who struggled or died from AIDS, together with a series of portraits of homophobia martyrs, such as Alan Turing and Harvey Milk.
In this post, I would like to focus on the story of footballer Justin Fashanu and teenage African-American Sakia Gunn.
Fashanu (1987-2003) was a London-born professional footballer, who played between 1978 and 1997 (above).
Fashanu's story enables to reflect on the dangerous effects of media outing: heard of the rumours that a Sunday newspaper intended to publicly expose his homosexuality, Fashanu decided to sell an exclusive to The Sun, which was published on October 22 with the title "£1m Soccer Star: I am Gay."
Since then Justin received a lot of backlash from football clubs and from the police, which accused him with multiple allegations of sexual assault in the US: the pressure was too much to handle and Fashanu took his life on May 3, 1998.
Fashanu had been considered guilty only because he was open to discuss his sexuality and paved the way for other athletes to come out.
Discussing the inability of getting a fair trial, Fashanu states in his suicidal note: "I realised that I had already been presumed guilty. I don't want to give any more embarrassment to my friends and family." The Justin Campaign aims to promote inclusivity in football and to continue Fashanu's legacy.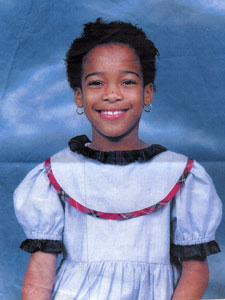 Next, the story of 15-year old African American lesbian Sakia Gunn (1987-2003, above) is a testimony of the alarming rate of violence against LGBTQ+ teens: Sakia was stabbed to death in Newark, New Jersey on May 11, 2003 by two men solely for the fact that she and her girlfriends rejected their sexual advances.
It is fundamental to recall the marginalisation given to this story by the media, with only 21 articles compared to the 659 stories about Matthew Shepard, a white college freshman at the University of Wyoming, murdered for his alleged sexual orientation.
Gunn' story is a powerful example of queer solidarity, as it started a wave of activism in Newark with the creation of Newark Pride Alliance, Sakia Gunn Aggressives & Femmes; and the Palmer B. Carson- PFLAG 'Sakia Gunn' Scholarship.
Taken as a whole, the exhibition succeeds in making the audience aware of the continuing inequalities faced by LGBTQ+ communities.
The Oscar Wilde Temple, open until 31 March 2019, can be used for private contemplation as well as a space for marriages, naming ceremonies, vow renewals, and memorials.
The Temple is an entirely safe space for the LGBTQ+ community both to ignite private commemoration and, more fundamentally, to afford a space for LGBTQ+ groups who do not have a fixed home. The Albert Kennedy Trust, a national LGBTQ+ youth homelessness charity, will be running workshops, events, mentoring and professional development for young people who would otherwise be homeless or living in a hostile environment.

If you would like to have more info, please visit the Studio Voltaire website or The Albert Kennedy Trust website.