Hunter Reynolds, Shhh (From 'Patina du Prey Drag Pose Series'), 1990 / 2012. [Digital print mounted on centra]. Courtesy of the artist, P.P.O.W, New York and Hales Gallery, London.
The Hayward Gallery presents 'Drag: Self-Portraits and Body Politics', an exhibition which aims to address drag as a political tool for dissecting issues of race, gender, identity, and sexuality.
Overall, the exhibition features the works of young queer artists such as Victoria Sin and Ann Hirsch, but also key figures such as Cindy Sherman, Ulay, and Samuel Fosso to provide a nuanced, intersectional, and non-chronological approach to the form of drag.
Interviewed on the brainstorming process behind 'Drag', curator Vincent Honoré explains that 'the exhibition stemmed from the desire of embracing drag as a way of performing gender, which goes beyond cabaret and cross-dressing.'
I argue that this curatorial approach to the exhibition massively helps question the outdated idea that drag belongs to cis-male culture (i.e. gay or straight men embodying female characters) by including everyone willing to subvert heteronormative and homonormative societal notions.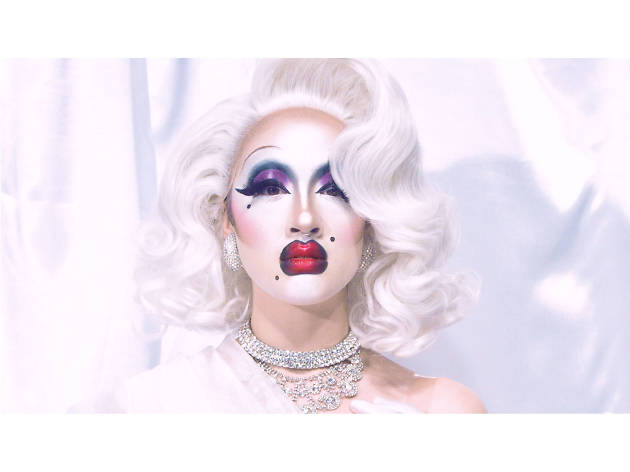 Victoria Sin, Cthulhu Through the Looking Glass, 2017[Film Still]. Courtesy: the artist.
Toronto-born and London-based performer Victoria Sin, for example, deploys speculative fiction within performance, moving image, and print 'to question normative processes of desire, identification, and objectification'.
Their use of speculative fiction as a creative medium can be considered as a way of reflecting on queer futurity: therefore, storytelling and activism are central in their performances.
Exploring the representation of constructed images of ideal feminine identities in Hollywood (e.g. embodying characters such as Marylin Monroe, Jessica Rabbit, and Marlene Dietrich), Sin realised that they do not feel comfortable identifying with mainstream and patriarchal ideas of womanhood, advocating for a femme resistance.
As Sin says in an interview with The Guardian, 'Drag is not performing a woman, drag is performing femininity. A person can be a woman and not be all feminine'.
Victoria Sin, She is Beginning to See, 2017 [Maxfactor, Rimmel, Sleek, Bare Minerals, Number 7, MUA on Facial Wipe]. Courtesy: the artist.
In the figure above, one can see a wipe from the filming of the performance Tell me everything you saw, and what you think it means, also in the exhibition.
The wipes, smeared with heavy traces of mascara and lipstick, are pivotal in Sin's practice as a relic of the performance, a way of commenting on the amount of feminine labour that goes into doing drag, forming a sort of archive.
Moreover, Sin is a key artist for looking at drag from a non-binary and post-colonial alternative: it is important to recall that Sin confronted misogyny and racism in the drag community as belonging to an Asian background.
Who is expected to perform feminine roles, emotional labour, domestic labour, in which context, how do we move/are we moved through the world as a result of these expectations? How can we work to unlearn these ingrained images, and rewrite a femme identity inside and outside this cis hetero normative, patriarchal and capitalist gaze and systems? (Retrieved from Sin Instagram). 
Samuel Fosso, Auto-Portrait 'African Spirits' series (Angela Davis), 2008 [Silver Gelatin LE Print]. Courtesy of the artist and Galerie Jean-Marc Patras, Paris.
Among the artists on display, Cameron-born Nigerian photographer Samuel Fosso utilises drag in the African Spirits series as a political weapon to tackle systemic oppression and issues of classism and white privilege.
Fosso started pursuing a photographic career after fleeing Nigeria's civil war in 1972: he set up a studio in Bangui, the capital of Central African Republic in 1975, where he devoted his practice and made a living out of wedding photography.
'I wanted to show how good I look. That is what it was about.' , Fosso confessed to ArtMag. Past portraits show him adopting limitless guises reflective of Western photography and, in particular, of Cindy Sherman's Headshot series, also in the exhibition.
Cindy Sherman, Untitled #359 and Untitled #360, 2000 [Colour Photograph]. Both Courtesy of Monika Spruth, Cologne.
In comparison to Fosso's series African Spirits, the figure above shows a part of Sherman's 2000-2002 Headshot series, where she merges the tropes of studio photography and identity cards. In this specific work, Sherman explores the process of aging and its effects on representation and identity through exaggerate make-up, coiffed hairdos, elaborate costumes, and prosthetics.
Overall, including Fosso in the exhibition was essential to generate a discourse on contemporary curating in terms of wrestling colonial narratives, as the project was inspired by the desire of rewriting and translating black narratives in museums, and of celebrating the heritage of POC in Africa and America.
By re-enacting different historical characters and parodying images on album covers Fosso produces a commentary on Western views on fashion : drag for him is quintessentially about debunking classism and white privilege with a sense of playfulness and ultimate freedom.
Luciano Castelli, His Majesty the Queen, 1973 [Collage, photograph, watercolor]. Courtesy of the artist and Christophe Gaillard, Paris.
Within this perspective, drag is a lens that can be used to dissect issues such as civil rights, post-colonialism, Aids crisis, and sexism in order to push towards the future of gender.
Especially in light of Ru Paul's controversial allegations about allowing cisgender and transgender women to participate to his reality show Ru Paul Drag Race, the exhibition plays a crucial role in sharing the multiple facets of drag with an intersectional perspective.
Drag is not about femininity or masculinity but is about 'perpetual transition, permanent recreation, and constant state of transformation': this mind-bending exhibition succeeds in displaying artists that explore the idea of not being neither one gender or another, revealing and undermining forms of societal oppression.
"DRAG: Self-portraits and Body Politics" is on view in the HENI Project Space at Hayward Gallery in London through Sunday, October 14.
Find more about the exhibition on  Southbank Centre website or the Hayward Gallery Instagram .